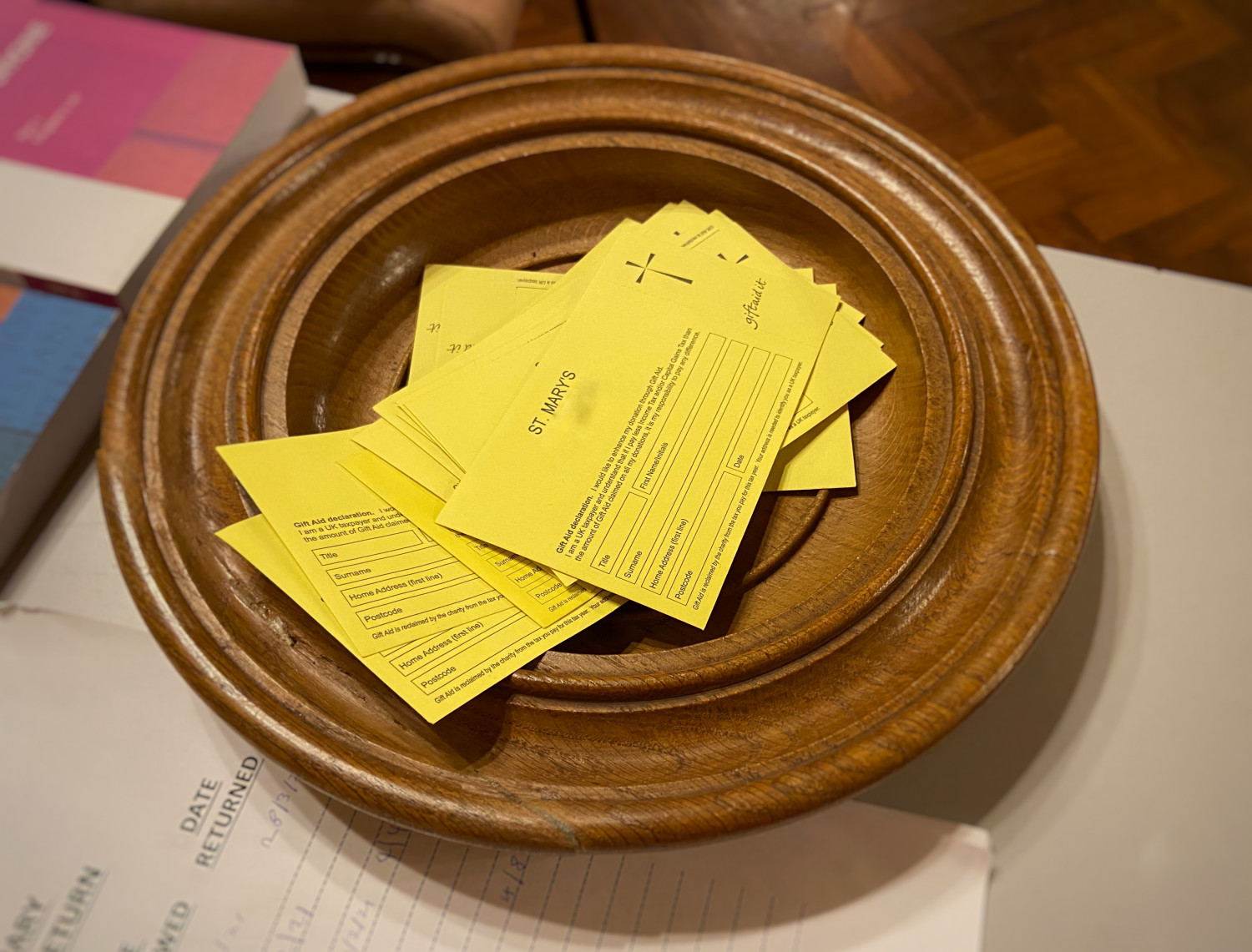 Regular giving from committed Christian disciples is vital to ensure the continued presence of the Gospel message in our communities.
The mechanisms and tools offered here enable people to give efficiently and for parishes to maximise their financial resources.
Gift Aid
Gift Aid allows churches, as charities, to reclaim tax on a donation made by a UK taxpayer via HMRC. This means every donation will be worth 25% more, at no extra cost to the giver. Parish churches must first register with HMRC and then ask all their eligible givers i.e. UK taxpayers to complete a Gift Aid Declaration. The church keeps a record of all eligible Gift Aid donations and periodically submits a summary to HMRC who pay the reclaimed tax back into the church's bank account
Gift Aid Small Donations Scheme (GASDS)
GASDS enables churches to claim Gift Aid on small cash donations of £30 or less, where no Gift Aid Declaration had been given. For example, cash collected in plate collections and visitor donations in wall safes.
Read all about this mechanism on the national Church of England website.
Parish Giving Scheme (PGS)
The PGS is an established service for managing Direct Debit donations, designed to support churches to fund their mission and ministry. It reduces the burden of work on church volunteers and provides a simple and secure service to donors.
The service is freely available to all parishes in Durham Diocese. Uptake is growing every year, with the majority of dioceses in the Church of England - and many of their parishes - now members of PGS and experiencing the benefits.
Please follow the links below to find out more about the scheme and how to sign up. For more information or to arrange a phone call to discuss the scheme, please email: pgs@durham.anglican.org
Download the Parish Registration Form
Visit the Parish Giving Scheme website
Grants
A growing number of parishes are interested in applying for grant funding, typically for church building maintenance or community projects.
There will be more tips and guidance coming soon on grant funding, meanwhile, this page on the national Church of England website is very helpful.
Legacies
Many Christians want to leave a gift of money for God's work in their will, as a final expression of their faith.
A will is a legal document that sets out your wishes regarding the distribution of your wealth and possessions. It is also where you can include a charitable legacy once loved ones have been provided for.
A charitable legacy is a gift of money, property or an item left to an organisation in a will. This type of giving to charity is commonly referred to as 'gifts' in wills. Gifts in wills can be left to parish churches, cathedrals and dioceses and are exempt from inheritance tax.
Each year across the Church of England around 4,000 people leave a gift in their will to their church, funding mission projects, maintaining beautiful church buildings and growing faithful communities.
Many supporters would like to know how they could leave a gift in their will to their parish church, but may not know how, or who to speak to. It is important for all churches to make information available and to inspire members about the difference that gifts in wills, no matter how large or small, can make.
Find out more about Legacies, along with some helpful resources, on the national Church of England website.