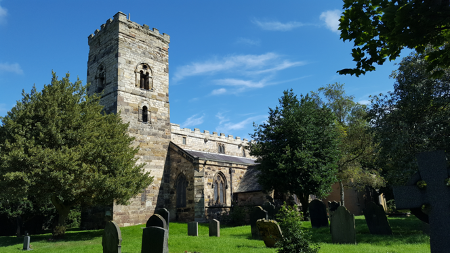 In this section you will find information, advice, support and resources for maintaining and/or making changes to your church buildings and churchyards.
The Diocese of Durham has over 260 churches, chapels and buildings licensed for public worship, from ancient Saxon and Norman churches, to Victorian church buildings, and those of modern construction.
Whether your church building is listed grade I, II*, II, or is not listed at all, and whether serving a rural or urban parish, each of our church buildings and their settings provide a unique and sacred space for worship and furthering the mission and ministry of the Diocese.
There's much to consider in order to keep your church buildings in good repair and to ensure that any proposed changes are planned sensitively, so that they are preserved or adapted appropriately to continue to meet the needs of the parish and the local community.
Parochial Church Councils (PCCs) hold legal responsibility for the care, repair and management of their church buildings. Caring for our church buildings can sometimes feel a weight of responsibility, but it is also a huge privilege, since the work we undertake today will help ensure they remain open and welcome for future generations to come.
Training sessions to support Churchwardens and those who are involved in the care and maintenance will be run at various points during the year. Look out for details of training sessions in the regular diocesan communications.
The Diocese is not able to recommend contractors for work on your buildings however a database of contractors used by other churches is held by the Buildings for Mission Secretary and can be shared when required.
A small number of our church buildings are closed and no longer open for worship. If you require any information relating to a closed church please contact Dan Spraggon, Church Buildings Support Officer. churches@durham.anglican.org .
Training Opportunities
Throughout the year we will arrange a number of training sessions to help you manage your Church Buildings. Below are the sessions that we currently have planned:
Faculty Workshops – please see flyer for further details and visit Eventbrite to book your place.

Grant Writing Workshop - TBC
Useful links
Whether you're new to the care and management of church buildings or simply in need of resources and advice, the following pages will be coming to this section soon. The clickable headings are already available:-
Other Useful Links