The man who served as Durham Cathedral's Head Verger for a quarter of a century has reflected on 26 "very privileged" years.
Jeffrey Hewitt (pictured) was made Honorary Lay Canon Emeritus by the Bishop of Durham, the Rt Revd Paul Butler, during his final Sunday Service in February, before embarking on a well-earned retirement.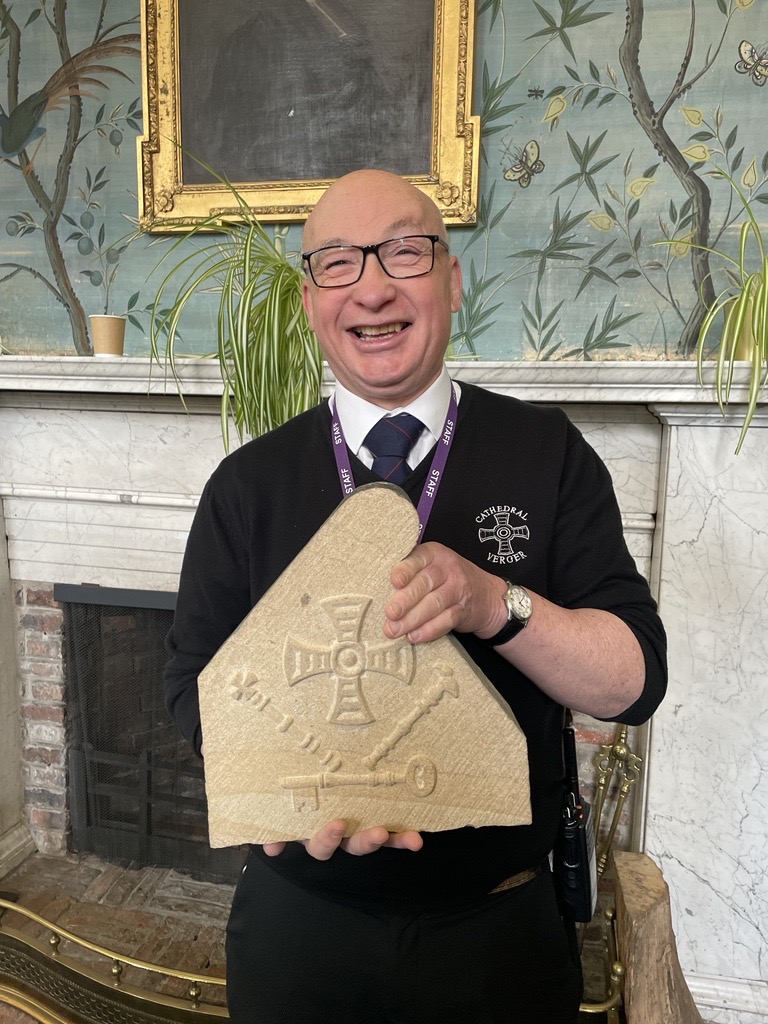 A live-in job at his home cathedral might sound like a natural step for a local man who grew up just down the road, at Elvet within St Oswald's Parish. But Jeffrey's journey took him well away from the North East before an unexpected return in 1997.
Since then he's helped to organise multiple services, including weddings and funerals, Royal visits and even concerts which have seen the likes of Sting perform at Durham.
And Jeffrey, who perhaps could have been ordained if things had worked out differently, said he couldn't have wished for a more varied and fascinating career.
"I've had 26 very privileged years at Durham," he said. "I have met and worked with so many wonderful people. No two days have ever been the same and I really have enjoyed my time at the Cathedral."
Although born in Gateshead, Jeffrey moved to Durham as a six-month-old baby and attended his local church, St Oswald's. There, he developed his faith and joined the church choir.
"I joined the Scouts and a few of us became bell ringers," recalled Jeffrey. "The Scout leaders challenged us in terms of our Christianity. The Scout promise, where you vow to do your duty to God and to the Monarch, probably didn't sink in at first but eventually I realised that I really wanted to fulfil that promise."
Despite moving to Framwellgate Moor at the age of 12, Jeffrey went on to become Sacristan at St Oswald's. A voluntary job helping to prepare for services, it stood him in good stead for the future.
"At that point I never considered the church as a career," said Jeffrey. "It was a hobby and something I enjoyed. I was working at Durham Carpets, where I was quite happy. I was married to Liz at 25 and we were settled."
Life did change, however, when a job came up as head verger at Derby Cathedral in 1983. Moving away from home didn't faze the young Jeffrey, and he spent 13 happy years in Derbyshire before another unlikely turn of events.
He explained: "I was on a visit home to see my mother and while in Sainsbury's, I bumped into David Higgins, the Organist of St. Oswald's, who mentioned that the Head Verger at Durham was retiring. I came to Durham to see if God was calling me there. I did not feel called and as far as I was concerned, that was the end of the story. But a day later, I re-heard the Bible passage about God giving Abraham the courage to go and it changed my thinking.
"I had an interview and got the job. It was similar to what I did at St Oswald's, but on a much grander scale. There was our team of five full time vergers, bedesmen and cleaners, as well as 500 volunteers. It was a huge operation and everyone was so dedicated."
Jeffrey worked with his predecessor, Owen Rees, for two weeks. Coincidentally, he had already received a watercolour painting by Owen – of St Oswald's Church, commissioned by St Oswald's Scout Group, when he left for Derby back in 1983.
Life at Durham became quite a family affair for Jeffrey. His sons Peter and Thomas served as relief vergers at the Cathedral, as did his daughter Caroline, before she became an Education Officer there.
Jeffrey's wife Liz worked in the chorister school at Durham. Their other daughter, Rebekah, continues to serve as a verger at the Cathedral, where both Rebekah and Caroline were married.
Thomas served as a verger elsewhere, at Southwark Cathedral in London. He is now a professional actor and singer.
There were Royal visits at Durham, but while Jeffrey enjoyed these privileged occasions, his favourite memories include Easter, Advent and Christmas at the Cathedral.
With three services per day at Durham, plus extras for special occasions, as well as many tourists visiting the Cathedral, Jeffrey witnessed varied styles of worship and a huge mix of people.
Jeffrey revealed he was twice offered for ordination while serving at Derby, but concluded it was "probably not meant to be."
He's now looking forward to starting a new chapter in retirement, with a move to Bishop Auckland.