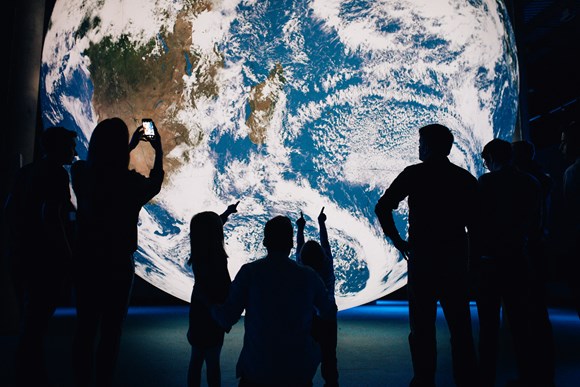 This summer, Durham Cathedral will be giving visitors an out-of-this-world experience as Gaia, Luke Jerram's replica artwork of planet Earth, lands in the cathedral.
From 10 July - 10 September, visitors to Durham Cathedral will be able to experience the Earth as it's seen from space as the giant illuminated globe grounds itself in the cathedral.
The inflated globe features 120dpi detailed NASA imagery of the Earth's surface and provides the opportunity to see Earth as it's seen from space, floating in three-dimensions. A specially made surround sound composition by BAFTA award winning Composer Dan Jones is played alongside the sculpture giving visitors an immersive experience.
Andrew Usher, Chief Officer: Visitor Experience and Enterprise at Durham Cathedral said: "We're delighted to be bringing Gaia to Durham Cathedral this summer. After the success of our other recent visual art installations we are keen to provide more exciting ways for our visitors to experience the historic cathedral. The artwork is created by the same artist who created the Museum of the Moon which brought almost 100,000 people to the cathedral in 2021 and we're hoping that those who came to see the Moon will return to see the Earth."
The seven-metre diameter installation gives the unique opportunity to see our home planet on this scale and reflect on the importance of caring for nature.
Andrew continued: "Gaia has such a visual impact and with the current climate crisis being such an important topic in people lives, we hope the installation and a programme of thought-provoking activities will allow visitors to reflect on the health of our planet and consider what we can do to help reverse the effects of climate change."
The installation creates a sense of the Overview Effect, which was first described by author Frank White in 1987. Common features of the experience for astronauts are a feeling of awe for the planet, a profound understanding of the interconnection of all life, and a renewed sense of responsibility for taking care of the environment.
The Reverend Canon Charlie Allen said: "The global climate emergency is a crisis for God's creation and a fundamental injustice for those who suffer the worst effects of climate change. Gaia invites us to reflect on how we might reshape our lives so as to sustain and renew the face of the earth, whilst at the same time awakening within us a sense of awe and wonder at the sheer beauty of the planet we call home. We look forward with great anticipation to having Gaia in our midst."
Visitors will be able to experience Gaia daily, during cathedral opening hours. A programme of earth-themed events will accompany the installation, including late night openings, tours with a twist, family activities and more.
For more information visit: www.durhamcathedral.co.uk/gaia